Mortgages
Dominion Lending Centres, we want to make each and every purchaser aware of the many mortgage options available to them prior to their purchase and closing date.
Now, more than ever, financial institutions are regularly launching new products and programs, making it easier to get into that new home sooner. Today, interest-only loans, self-employment programs, rental purchase programs, vacation property programs, and a host of other innovative financing alternatives are dotting the home purchase landscape, making homeownership a reality for more people than ever.
Whether you are first-time buyer or an experienced buyer with excellent credit, Dominion Lending Centres has access to the very best products and rates available across Canada. Give us a call… we think you'll be pleasantly surprised!
The purchase of a home is the largest purchase most people make during their lifetime.
The decision to choose a fixed or variable rate is not always an easy one. It should depend on your tolerance for risk as well as your ability to withstand increases in mortgage payments.
YOU CAN SOMETIMES EXPECT A FINANCIAL REWARD FOR GOING WITH THE VARIABLE RATE, ALTHOUGH THE PRECISE MAGNITUDE WILL EBB AND FLOW DEPENDING ON THE ECONOMIC ENVIRONMENT.
Fixed rate mortgages often appeal to clients who want stability in their payments, manage a tight monthly budget, or are generally more conservative. For example, young couples with large mortgages relative to their income might be better off opting for the peace of mind that a fixed-rate brings.
A variable rate mortgage often allows the borrower to take advantage of lower rates – the interest rate is calculated on an ongoing basis at a lenders' prime rate minus or plus a set percentage. For example, if the current prime mortgage rate is 5.5 percent, the holder of a prime minus 0.5 percent mortgage would pay a 5.00 percent variable interest rate.
As a consumer, the best option is to have a candid discussion with your mortgage professional to ensure you have a full understanding of the risks and rewards of each type of mortgage.
Watch Video
Renewals
By omitting proper consideration at the time of renewal, this practice costs Canadian citizens thousands of extra dollars every year. Nearly 60% of borrowers simply sign and send back their renewal that is first offered to them by their lender without ever shopping around for a more favourable interest rate.
Homeowners should never accept the first rate offer from their existing lender. Without any negotiation, simply signing up for the market rate on a renewal is unnecessarily costing the homeowner a lot of money on their mortgage.
Generally it is a good idea to start shopping for a new term between four and six months before your current mortgage term expires. Many lenders send out your renewal letter very close to the time that your term expires and this does not give you ample time to arrange for a mortgage term through a different lender. This means that you need to be tracking your own mortgage term timeframe and know when it is time to start shopping for a good mortgage renewal rate.
Before you ever hear from your lender about renewing your mortgage term, have a licensed mortgage professional shop around for you, you will be amazed at what they can accomplish on your behalf!
Your mortgage is one of your biggest expenses. For this reason it is imperative to find the best interest rates and mortgage terms you possibly can. By shopping around at renewal time you can save substantial amounts of money over the life of your mortgage loan. Don't be one of the 60% who just simply sign their renewal letter and send it back. Use the services of a licensed Dominion Lending Centres mortgage professional to ensure the lenders compete for your business.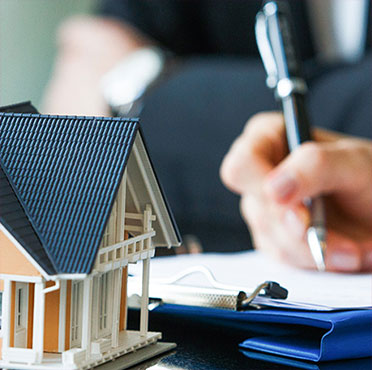 While most Canadians spend a lot of time, and expend a lot of effort, in shopping for an initial mortgage, the same is generally not the case when looking at mortgage term renewals.
Refinancing
Canadians today face many reasons to refinance their mortgage.
For example, you may have been working at improving your credit score and now qualify for a new mortgage with a better discount, or you may want to stabilize your payments by changing from a variable rate mortgage to a fixed-rate.
Refinancing is also a good option to pull out equity for consolidating debt, home improvements, investments, college expenses, and more.
Refinancing Calculator
Run the numbers
Find out how much interest you can save by refinancing your mortgage.
Home Equity
Canadians purchase homes for a variety of reasons. Some want the stability of owning their own home, while others also look at home ownership as an investment vehicle. No matter what the reason, the truth is that home ownership has proven itself to be a good stable investment over time, and one which many Canadians are profiting from.
While many people have chosen to purchase their first home during these times of lower interest rates, there has also been a large movement to refinance home loans and pull out equity for home
improvements, investments, college expenses, and even high interest debt consolidation. Canadians have been borrowing against their home's equity in record numbers, taking out billions of dollars in cash each year.
In years past, many saw their homes as a shelter of safety, yet today, they are more than ever before, willing to borrow against the equity owned in their homes to further their investment portfolios, get out of debt, send their children to university, make improvements to their home, or even boost their RRSP contributions. Where home equity was once sat upon, today it is often used to one's advantage.
While removing equity from your home can be a good idea, you should do so with caution and fully understand the benefits and possible risks. The best thing you can do is to consult a licensed mortgage professional and financial planner to discuss opportunities to make your home's equity work for you.
Many people find that one of the easiest and most affordable ways to access money is through the equity that they have accumulated in their home. This is a very popular option, especially when you have an excellent first mortgage in place.
While many Canadians take advantage of self-employment opportunities, those who are self-employed sometimes face roadblocks when they are in the market to obtain personal financing, such as a mortgage or vehicle loan.
Proving self-employment income, and income stability for the years to come, can be difficult for new business owners.
Many Canadians have successful small business ventures and would not trade the lifestyle for anything in the world. However, many begin to question their lifestyle and business choices when they first attempt to obtain financing for their home, or even something as simple as a new credit card or vehicle. The nature of self-employment income can sometimes leave the self-employed looking like poor credit risks, even though they may actually have a more stable source of income than those who are working 9 to 5 for an employer.
Thankfully, Canadian mortgage lenders are starting to understand the importance of self-employment in our culture, and are making great mortgage programs available to the self-employed to finance their primary residence and even their vacation homes.
Licensed mortgage professionals are experts at assisting self-employed individuals with getting a mortgage, and they will ensure you get the best mortgage available through one of Canada's largest lenders.
Obtaining a mortgage if you're self employed has never been easier, and you will be excited to learn that the mortgage products available today are structured to help you succeed in your business and your personal life.
Vehicle Finance
Many Canadians have a love for heading out and enjoying the outdoors, and require options for financing their vehicles to help get them on their way. Our Client Services for Auto & Vehicle Finance include:
Removing Co-Signer
Remove yourself from a co-signed loan.
Cash Back
Keep your asset and get cash back to consolidate your debt.
Auto/Trailer/RV/Boat Acquisition
Pick what you want to buy and we will provide you with a bank draft to make your purchase.
Credit Rebuilding
We are experts at credit challenge applications.
Powered by KDK


"Charlene works hard to get you the best rates. She's professional, reliable and goes above and beyond to serve her clients. Highly recommended!"
Bobbi Compton, Fort McMurray, Alberta